The procedures for contracting with the government often vary from normal commercial contracting, and may be subject to rigorous requirements and regulations depending on the government agency.
The company takes great care in remaining in compliance with all regulations and Executive Orders when contracting and communicating with foreign, federal, state and local governments and agencies.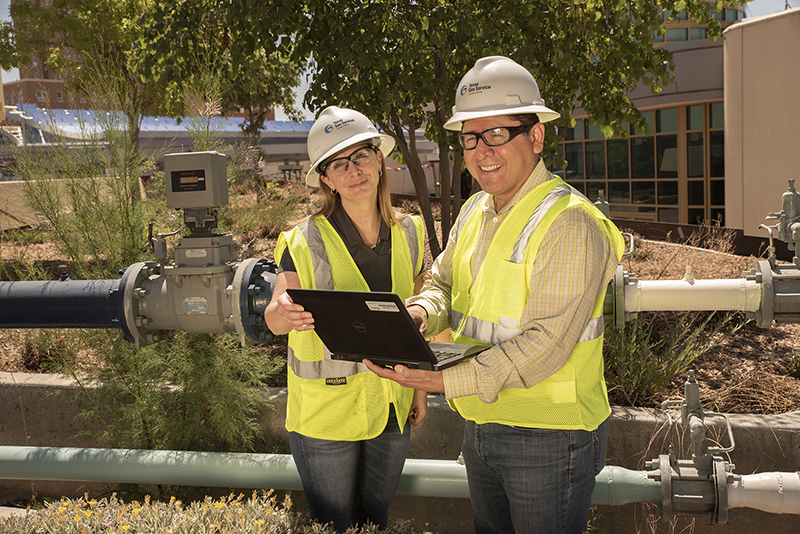 Government Communications
All ONE Gas employees, officers and board members who come into contact with government agencies must exercise care in any statement made to the agency or any of its personnel. The company will not tolerate false statements (verbal or written) to a government agency –local, state or federal. Additionally, it may be a crime or violation to knowingly or deliberately conceal any material fact from a government official. Deliberate false statements or omissions to government officials can expose the company and the individual involved to serious criminal and civil penalties.
Lobbying & Political Campaign Activities
Federal, state and local laws govern the affairs between businesses and government officials. This includes giving and receiving gifts in order to influence government officials. Before contacting or responding to any representative of a government agency contact a member of the Government Affairs Department. As stated above, ONE Gas' stance on giving and receiving gifts with a government official is to not take part unless a specific gift exchange has been reviewed and approved as appropriate and permissible by the Chief Compliance Officer. Consider the motives of the exchange to determine if they are ethical and do not put you in a potential conflict of interest.
In addition to attempting to use gifts to influence government officials, the government fines and penalties can be stiff and harsh for lobbying outside of the established rules. Lobbying is defined as the act of attempting to influence business and government leaders to create legislation or conduct an activity that will help a particular organization. However, be mindful that there can be a perception of lobbying discussing your views on CNG or sitting at the same table with a state employee during a luncheon. A golf game or dinner may seem innocent enough, until it hits the front page of the newspaper.
Do not contact the government to influence legislation, regulations, or decision-making on behalf of ONE Gas without consulting with the Chief Compliance Officer or the Government Affairs staff.
Under no circumstances will any activity be authorized or undertaken by an employee that violates the provisions of the federal or state election laws. At no time shall company money, property, services or anything of value be contributed, furnished to or used by a political candidate or party except as authorized by federal and state law regarding political action committees and approved by the Chief Compliance Officer.
Federal Audits & Investigations
Occasionally government bodies will perform audits on or investigate ONE Gas systems, properties, contracts, policies, etc. It is ONE Gas' policy to cooperate fully with all government audits and investigations and no employee or officer shall obstruct or impede a government audit or investigation. The company must respond fully, accurately, and timely to government audits, inquiries, investigations, inspections, and other requests for information and corporate data, files, or records. Failure to do so may result in sanctions, penalties, fines, and other administrative, regulatory, or legal actions or proceedings.
If you are contacted by a government official for an audit or document request, you should promptly notify the Chief Compliance Officer and/or the Legal Department. The Chief Compliance Officer will coordinate all requests and inquiries related to the government's audit or investigation. Be careful to make clear to the government official that you do not speak or act for ONE Gas unless you have been authorized to do so.
Employment Decisions & Agency Post-Employment
Many government agencies have restrictions regulating employment discussions with and the hiring of employees who have previously worked for the government. This includes state corporation commissions and contracting personnel of the Department of Defense. Job offers can constitute bribes and create a conflict of interest. It is not necessary that a salary or other employment terms be discussed to trigger the beginning of employment discussions. Furthermore, this prohibition on employment discussions cannot be avoided by the use of hints, subtlety or ambiguity, the use of hypotheticals, or by communicating an offer "after hours", or in a social setting. Before making the decision to have an open employment discussion or hiring a previous employee of a regulating body government procurement official, (for example, a former military contracting officer), be sure to consult with the Human Resources department. If you are asked by a government employee about employment opportunities at ONE Gas, refer them to the Human Resources department and do not discuss employment matters with them.
Additionally, there are numerous post-employment or "revolving door" restrictions on the types of activities that former government personnel can perform in the private sector. If you are a former employee of a government agency, seek guidance from the Compliance and Ethics Department before being involved in any decision that might affect a rate case or contract.
Foreign Companies
Although ONE Gas conducts business on domestic soil, the company is still bound to laws governing foreign transactions. Many banks and insurance companies transact business through foreign branches, therefore, the Foreign Corrupt Practices Act of 1977 (FCPA) and the UK Bribery Act of 2010 apply to the company. Regardless of the place of incorporation, a business that employees a UK citizen or has offices in the UK falls under the UK Bribery Act, and any US companies dealing with that business are bound to the Act.
The combination of the relevant legal authorities prohibits employees, contractors and persons acting on behalf of the company from making payments or offers of payments of anything of value to company officials, foreign officials, political parties or candidates for foreign political office in order to secure business or to influence the official. Payments such as commissions, consulting fees, marketing expenses, service fees, customer intervention payments, etc., when made to a foreign official, are strictly prohibited by the law.
It is unacceptable for any employee, contractor or agent to make facilitation payments or "grease payments" or provide gifts and favors to a government official (foreign or domestic) or a third party company official for the purpose of gaining favor in a business transaction or to expedite routine and non-discretionary activities, such as obtaining a permit, visa or work order. The company will not tolerate this behavior. These anti-bribery provisions provide that companies and individuals can face severe criminal and financial penalties.